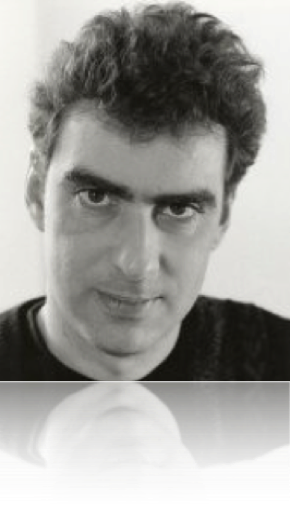 Helligåndskirkens Kor, Århus
Anders Gaden, dirigent
At se frem er også at se tilbage. Tilbage mod alt det, vi kom fra Den der vil tale ind i sin tid, er oftest den der kender sin baggrund, sin tradition, og som kan jonglere og ommøblere traditionens sprog så det bliver som en nyudsprungen ærteblomst.
De store bevægelser i den europæiske kultur er sket med blikket både vendt tilbage mod fortiden og fremadrettet mod det kommende. Dette kendes særligt tydeligt fra Renæssancen og Reformationen.
I Renæssancen havde kunstneren, teologen, videnskabsmanden blikket tilbage til antikkens rige sprog og udtryk og på baggrund af denne fascination skabtes et nyt sprog og nye tanker. Reformationen førte til en omstrukturering af store dele af Europas. Denne store forandring af forholdet mellem politik og religion, tog sit udgangspunkt i en søgen tilbage til kilderne.
Men det er ikke kun i de store kollektive ommøbleringer, denne tendens gør sig gældende. Digteren T. S. Elliot, en af det 20. århundredes store modernister var bevidst om, at digtet opstår i spændingen "mellem nærværende tid og svunden tid." Hvad der kunne have været og hvad der har været peger mod det samme mål, som er altid nærværende.
Vi har ønsket at sætte Simon Grotrian ind i en ramme, der peger på, i hvor høj grad hans meget moderne digtning har traditionen med sig og bag sig. Han sammentænker udtryk og metaforer fra traditionen, fra den kristne tradition som fra den græske mytologi for at nævne to væsentligste spor i hans digtning. Disse gamle spor sættes sammen med et profant og hverdagsagtigt sprog, der bevidst skurrer mod hinanden. Han er noget så sjældent som en religiøs og en moderne digter. Både religiøs og moderne. Det er helt enestående. Der er mange der udråbes til at være moderne salmedigtere, som i virkeligheden bare reproducerer fortiden, blot pænere og fladere.
Hos Grotrian ringer testikler solen ned.
Det profane og det religiøse forbindes og udnyttes. Der er en slangforbindelse mellem testikler og et klokkeværk som sættes sammen uden at være plat, synes jeg, fordi forbindelsen allerede findes i sproget. Alvor og humor krydses i hans tekster. For nogle vil det være for meget, for langt ude, for andre kan det åbne øjet for englevinger og øret for de nye toner.
Sådan næsten leger Grotrian med et metafysik billedsprog, hvor ordet Gud optræder hyppigt, men også ord som: kloden, hovedet, øjet. Det himmelske perspektiv er med i de fleste af hans digte og alle hans salmer. Med et vingesus sættes der ild til sproget, ikke mindst det religiøse sprog, hvor det der måtte ligge dødt og begravet i sine egne klicheer.
Grotrian skriver i digtsamlingen: " Livet er en ko":
og selvom vi har glemt det tit
og salmer bruges op som kridt
Salmer bruges op som kridt, minder han om, i sit forfriskende billedprogram.
Man kan kalde Grotrian en profetisk digter, der lader metafysikken vende tilbage i billedsproget. Mens teologer og behjertede forkyndere slår sig for munden for ikke at sige for meget om Gud, om det visionære og det profetiske, så er sansningen og kunsten altid foran og åbner rum og døre og vinduer til en forunderlig verden.
Med Grotrian bliver det både skæggere og mere nødvendigt at turde tale og drømme om det vi ingen viden har om, men billeder så rige som Grotrianske eller groteske eller gotiske blomstrer, der slår rødder i tiden og trækker os op fra sprogets dødvande.
Ulla Salicath, sognepræst
Originalmelodier til tekster af
Simon Grotrian:
Korsatser a cappella
Denne verden aber efter
Din frelser blir din klippe
Guds nåde er en vintergæk
Velsign mit barn, du kære Gud
En skov af lærketro
Lad os bære hjertet frem
Kære Gud, kære Gud!
Jeg fryser i mit verdensskrud
Jeg viger i min sjæl
Helligånden
Halleluja!
Han glemmer mig aldrig
Tak for dét, og meget mer
Hvad er nød for Herrens trone?
Aften, kom!
Jesusbarnet kommer som en kile
Sang og orgel
Denne verden aber efter
Din frelser blir din klippe
Hvad er nød for Herrens trone?
Han glemmer mig aldrig
Jeg fryser i mit verdensskrud
Kære Gud, kære Gud!
Grotriansalmerne er udgivet af
Edition Wilhelm Hansen
- dels i samlingen 15 Grotrian salmer
og dels som Six Songs (sang og orgel)
De er derfor desværre ikke længere tilgængelige til fri download, men kan købes via ovenstående links.
Helligånden sværmer da
ned på denne finger
træerne tar kronen af
bellisfrøet ringer
spindene med flueord
danser over stol og bord
han er dén, der klinger.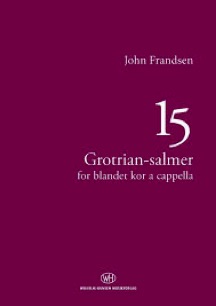 Om WH-udgivelsen
15 Grotrian-salmer for
blandet kor a cappella
skrev Organistbladet dec. 2017:
"Musikken (...) matcher Grotrians ord i kraft og opfindsomhed. Derudover skinner det overlegne kompositoriske håndværk tydeligt igennem. (...)
Originalitet og modernitet forenes med klarhed, forståelighed og kor-idiomatisk skrivestil. Og så er der stor variation satserne imellem - hver med sit unikke tonesprog og kompositoriske koncept."
Morten Ladehoff